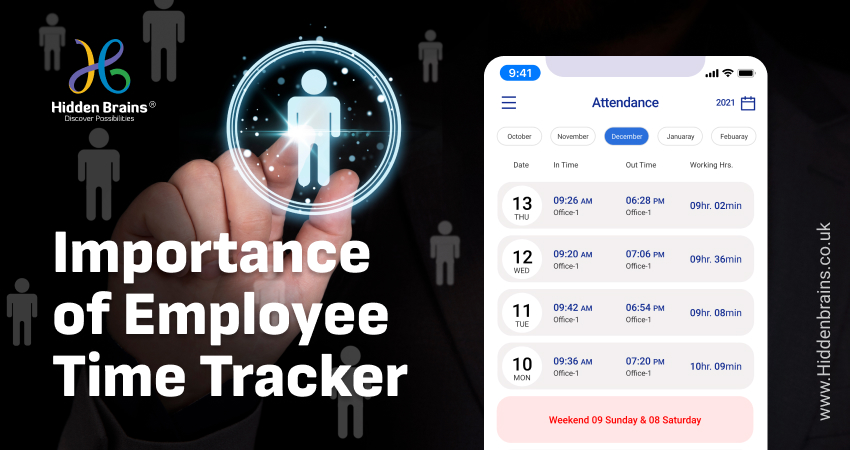 Efficiency, user experience, and a seamless workflow must be successful in the workplace. It is beneficial to monitor your time to understand better how you spend your time at work and home. After learning which jobs use most of your time, you may begin to question if your time is being spent well. To control your workers' time as a company, you may utilize an employee time tracking app. It is possible to monitor payroll, billing, and job operation hours with a time tracking system.
What is employee time tracking app?
Time tracking refers to the process of recording the working hours of hourly employees and ensuring those employees are paid correctly for those hours. A subcategory of time and attendance is a broad term encompassing elements such as time tracking, attendance, leave, and billable hours. Employees' starting times, finishing times, and any breaks not included in their contractual agreement are recorded by the employer through time entry. Timestamps are recorded on physical documents called time cards or as electronic data on spreadsheets or time-tracking software.
Was time tracking initially intended for?
A common term for this is time tracking, which is how firms record their workers' working hours. After that, it is utilized to ensure that personnel is reimbursed appropriately for their hours on projects or activities. After you have identified the jobs that consume the most fantastic time, you can consider whether that time has been wisely spent. Not all of the time-consuming chores are also the ones that demand the most significant effort to perform and that provide the most benefit.
Tracking your team's time using Web Development Services offers a variety of advantages and the obvious benefit of knowing how long someone has worked for you. Seven reasons why time tracking might be beneficial to you and your organization are outlined in this document.
1. Increasing profitability
Employee Time Tracking Web App is accurate, and you can readily see where your money is going using this software. Project budgets should be closely monitored, and work should be re-prioritized if something isn't paying off in the way you hoped.
2. Bill and pay on time and in full
As a Web Development Services team, when members monitor their time toward specific tasks or are in the midst of a project, it helps establish clear objectives for everyone. It reduces misunderstanding about what each individual should be doing.
3. Make your goals very clear
Employee Time Tracking Web App helps create clear objectives for everyone on your web development agency. It eliminates uncertainty about what each individual should be doing while tracking time towards particular tasks or while working on them.
4. Productivity should be increased as a result of this
Teams can keep track of current projects by using time tracking software such in the Web Development Agency. Find out where any possible hitches are occurring in the day-to-day operations, and utilize that information to develop methods to assist your team in being more productive at work.
5. Project management should be improved
You can track the time by Employee Time Tracker it takes for your team to finish a job by monitoring time. Managers can be more effective if they prioritize future projects and team capacity.
6. Make sure there is no secrecy about anything
Team members may register hours automatically and provide transparency into their work using tracking software which can assist managers in holding team members responsible for their efforts.
7. Improve how you communicate the status of your project
With the ability to measure and report on time, employees will be better able to communicate with their supervisors about whether they will be able to meet deadlines during regular working hours. It will be simpler for teams to convey their demands to coworkers and managers.
8. Time tracker app for employees
Every organization is built on the strength of its employees. Every aspect of the company's operations is supported by its significant contributions to attaining its goals. Consequently, employee monitoring is critical in keeping people engaged and effective at their jobs. When a company maintains track of the working hours of hourly workers and pays them on schedule, it is known as a payroll company.
An Employee Time Tracker may help you engage your staff better while completing their jobs more effectively. The management team may ignore a few duties because a corporation rotates on numerous things concurrently. In this tricky circumstance, time tracking software comes to the rescue. A time tracking program guarantees that no actions are missed and that all tasks are finished on time.
9. Types of time tracking
With employee time monitoring, you gain a more profound, objective insight into your business to act upon. But it would be best if you didn't mix personal time monitoring with project time tracking. Here's the difference between the two.
10. Personal time monitoring
Several software solutions strive to facilitate the discovery of your digital time spent. RescueTime is one example that can measure your digital time across devices. Which websites and applications are you utilizing most frequently, and how much? The period is then classified and offered essential insights with an overall productivity score. Based on this number, you may compare your workday from week to week, learn from experience, and change your routine appropriately. It's just not effective in such cases.
11. Project time tracking
However, one more advantageous method for bigger businesses is to implement time monitoring directly on projects. It is most typically done in systems that mix project- and resource management. They make it easy to organize all of your duties across projects, and the company offers you and your team vital information to manage time better in the future.
Conclusion
Getting a proper tracking system is as good as assuring higher output in your organization. Clock software for time tracking lets you manage your employee's time effectively. With features like screenshots, digital timesheets, payroll administration, location tracking, and more, Clockly promises enhanced productivity and accountability. With ease, you will manage the ins and outs of your remote and in-house workers.
Related : Step By Step Guide For The Web Development Process