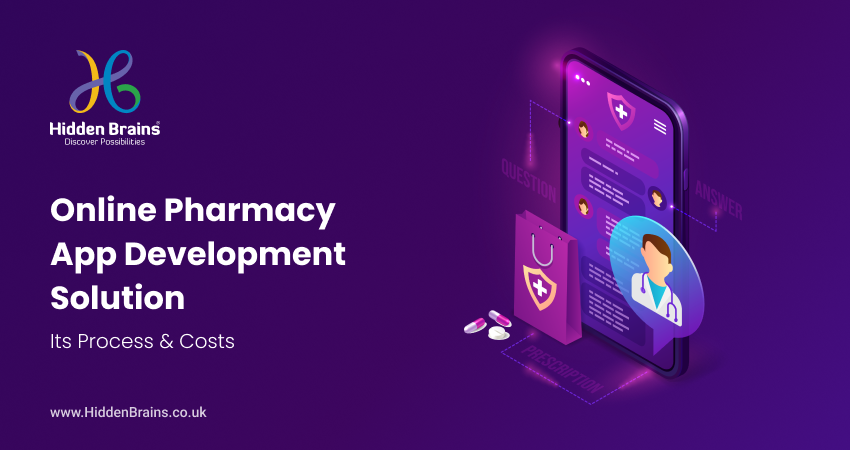 Looking for an on-demand online pharmacy development solution to expand your business reach but not sure where to get started and how much it costs to create an online pharmacy development solution?
Well, the average range to build an online medicine delivery app ranges from $15,000 to $20,000 and can go even above $35,000 or more depending upon the complexity of the app.
Developing an on-demand medicine ordering app can provide convenient and seamless access to prescription drugs, OTC medicines, and other healthcare products. In recent years, online pharmacy applications have witnessed a surge in popularity, benefiting both pharmacy providers and consumers.
After the outbreak of COVID-19, consumers increasingly switched to ordering medications online and having them delivered to their doorstep. The increasing demand for online pharmacy services has made pharmacy stores leverage online pharmacy development solutions to enhance their brand recognition and create additional revenue streams.
Creating an online pharmacy app offers an excellent opportunity to expand your business and establish a digital presence among your target audience. So if you are all set to create an online pharmacy app development solution, then you must have a few questions in mind. They are like:
What is an online pharmacy delivery app?
How do online pharmacy Apps Work?
What are the primary Business Models for Pharmacy App Development?
What are the key Features to integrate into your application?
How do online pharmacy development solutions benefit your business?
How do you navigate the online medicine delivery app development process?
Is there any way to make money from your online pharmacy development solution?
How much does it cost to create an online pharmacy development solution?
Read more: Understand how much it costs to hire a software development company in the UK?
So let's get started with various aspects of on-demand online pharmacy development solutions…
Overview of ePharmacy Market Share: Online Pharmacy Development Solution and Its Opportunities
The way the global online pharmacy app market is expanding, it is offering a wide choice of opportunities to pharmaceutical businesses, startups, and enterprises. If you are doubting whether online pharmacy development solutions are worth your investment, then you need to know these market statistics…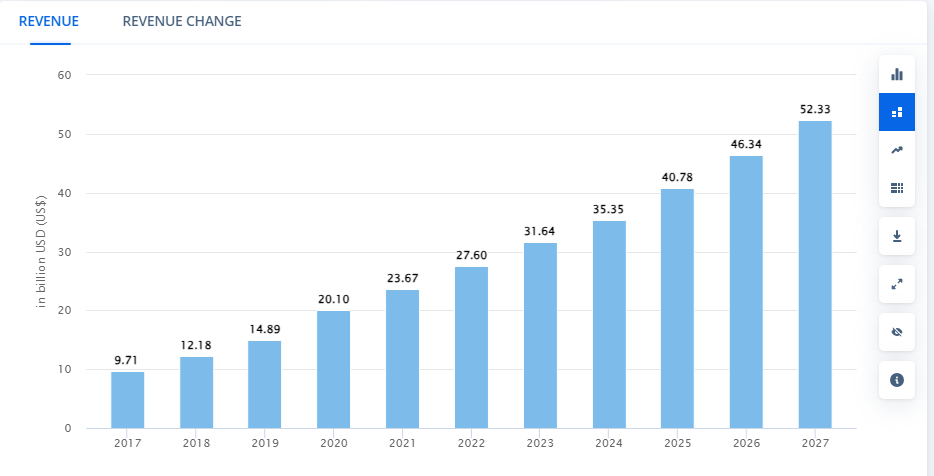 Image Source: statista
These statistics are enough to trust that the ePharmacy market is growing at the next level. But the question is what opportunities does it opens up for the pharmaceutical businesses in 2023…
Here are a few types of applications and solutions that all levels of pharmacies can look for:
User-friendly apps tailored for small, independent pharmacies.
Robust corporate platforms designed to assist hospital-affiliated and institutional pharmacies.
E-commerce solutions for compact online drugstores with a focus on home deliveries.
Apps for tracking medication deliveries and managing supply chains, including the use of drones and UAVs for medical product transport.
The solid numbers and facts portray the growth of pharmacy application development. The pharma market is now booming and will continue to flourish in the near future. If you are looking to get started with an online pharmacy development solution then it is logical to go for custom solutions that fit your business needs.
Understand the Custom Online Pharmacy Development Solution
Gone are the days of waiting in long queues outside the pharmacy and chasing for the medicines. Ordering medicines online through dedicated apps has become a new trend in this digital era especially in the wake of the pandemic.
Therefore, investing in the development of an online pharmacy app can truly enhance the value of your pharmacy business.
But the question is what is a custom online pharmacy development solution and how to get the best one for your business?
"At Hidden Brains, a leading medicine delivery app development company in the UK, we specialize in providing white-label app solutions tailored to various business models. Whether you run a single medical store, operate in the aggregator and marketplace space, manage a pharmacy startup, work as a wholesaler, or serve as a hospital stockist – our solutions are designed to simplify the process of ordering new medications or refilling regular prescriptions."
Not only do we tailor our solutions to meet the changing needs of the customers, but we also empower pharmacies to achieve rapid growth while adhering to the best practices in the healthcare industry.
Online pharmacy development solutions or medicine delivery apps prove to be a game-changer in the field of medicine by offering quick doorstep delivery of pharmacy to customers. The custom pharmacy solution can allow customers to browse through a wide range of medicines or order the pharmacy by simply uploading the prescription on the app. With secure payment integration, customers can easily make instant payments.
However, before you step into the process of hiring a web development company in the UK, let's evaluate what type of online pharmacy development solutions you need to develop.
What Are the Result-Driven Medicine Delivery App Development Solutions For All Pharmacy Businesses
When you make a decision to create an online pharmacy app, the first thing you need to decide is what type of pharmacy app you need for your business. How much will it cost to build an online pharmacy app?
Well, before you hire mobile app developers in the UK, you need to understand that different businesses have different perspectives, target audiences, and business models. So let's check out the result-driven medicine delivery app development solutions that you can choose to build for your business in 2023…
Here are a few business models that you need to consider if you are planning for online pharmacy development solutions:
– For Individual Pharmacies:
Expand your market reach, provide hassle-free medicine delivery services through a dedicated app, and cultivate strong customer relationships. Ensure timely delivery of the required medications.
– For Pharmacy Chain Businesses:
Managing multiple pharmacy outlets can be a complex task, but not with our solutions. Our on-demand pharmacy app solutions simplify the process, enabling you to oversee all your stores with a single click.
– For Aggregator Medicine Delivery:
Deliver medicines to customers' doorsteps anytime, anywhere, using automated inventory systems. Collaborate with and manage multiple vendors effortlessly through a single app interface.
Depending on your business requirements, you can choose from these business models but the central question is What features do you need to implement in the app to make it functional?
Read More: Understand the Features of Hospital Management Systems and Software
Crucial Features to Integrate Into an Online Pharmacy Development Solution
The success of any app is dependent upon the features and functionality you choose to implement in the app. On the other side, the features are the biggest element that majorly impacts the overall app development cost. So if you are looking to create an online pharmacy app, then you need to create a customer panel, an Admin panel, and a pharmacist panel.
Let's check out the list of features required to integrate at each panel.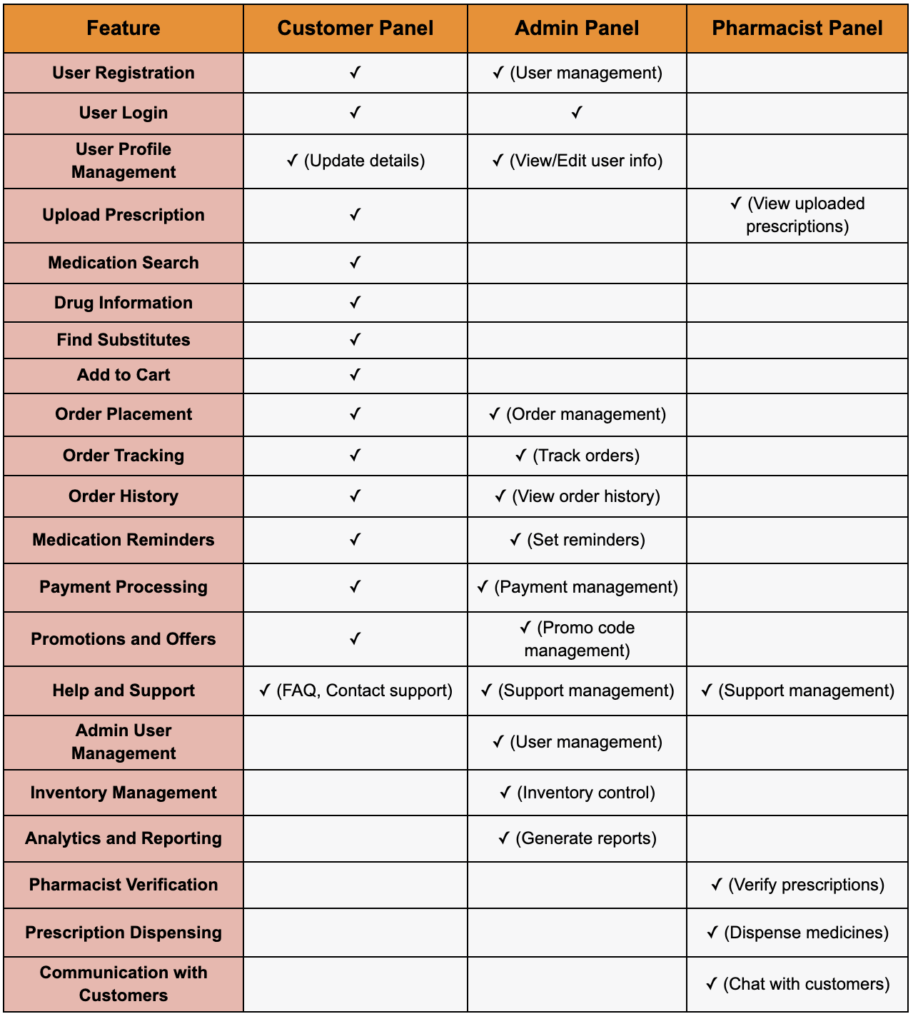 Image Source: hiddenbrains.co.uk
Customer Panel
Upload Prescription: Easily upload your prescription by clicking a button, allowing our pharmacists to digitize it for you.
Easy Onboarding: Start your journey effortlessly by signing up with your email or social media accounts, ensuring a hassle-free registration process.
Smart Search: Find your needed medicines swiftly by searching their names or active ingredients, with auto-suggestions and useful filters to refine your results.
Drug Description: Access comprehensive information about the prescribed medicines before making a purchase, ensuring you are well-informed.
Find Substitutes: Discover cost-effective alternatives and substitutes for your prescribed drugs, helping you make informed choices.
Refill Prescription: Reorder your medications quickly without the need to upload your prescription again, saving you time and effort.
Order Tracking: Stay updated with real-time push notifications, allowing you to track your order's exact status from placement to delivery.
Medicine Reminders: Receive intelligent reminders on when to take your medicines, ensuring you never miss a dose and providing peace of mind.
Payments & Offers: Choose from a variety of payment options and take advantage of promo codes to save money on your purchases.
Manage Profile: Keep your profile information, addresses, and uploaded prescriptions up to date, ensuring accurate and efficient service.
Customer Support: Access in-app FAQs, helpful tutorials, and contact support to address any questions or concerns, making your experience smooth and user-friendly.
Admin Panel
Control Center: Access a web-based admin panel that serves as the command hub for overseeing every facet of your business.
Manage Inventory: Effortlessly incorporate new medications into your stock, receive notifications for low inventory levels, and exercise control over pricing and more.
Manage Pharmacists: Cultivate and oversee a proficient network of pharmacists tasked with reviewing and processing customer orders.
Manage Orders: Gain a centralized view of all incoming orders, enabling you to monitor their status and delve into fulfillment details efficiently.
Manage Customers: Safeguard a secure database housing comprehensive customer information, including key data, to personalize interactions and maintain robust customer relationships.
Payments & Offers: Seamlessly integrate account information, craft enticing discount offers, and evaluate their performance to enhance customer engagement.
Content Management: Take the reins of content management across various app screens, including sections like "About Us," FAQs, and Terms & Conditions, ensuring up-to-date and accurate information.
Reporting & Analytics: Harness the power of insightful data to make informed, data-driven decisions by accessing essential business insights and trends.
Pharmistic Panel
Dedicated Interface: Each pharmacist is equipped with a user-friendly web console, offering an intuitive platform designed for efficient order management and streamlined workflow.
Order Notifications: Pharmacists receive prompt notifications for any incoming orders through multiple channels, including email and web notifications, ensuring they are always informed and ready to fulfill customer needs. To create this feature you can hire a mobile app developer in the UK who will help you send customer-specific notifications to increase sales.
Digitize Prescriptions: Uploaded prescriptions undergo a thorough review and are meticulously converted into a digital format, allowing for precise and error-free processing, ultimately enhancing prescription accuracy and patient safety.
Provide Support: Pharmacists extend their support and expertise to customers through a multi-faceted approach. They can assist customers via phone, and optionally, through an in-app chat support feature, ensuring accessible and personalized assistance for all customers' inquiries and concerns.
These are the few general features that you need to consider while planning to create an online pharmacy delivery app. The average cost to create an online pharmacy delivery app with these basic features will range between $15,000 to $20,000+.
But if you are a full-fledged entrepreneur and looking to create a feature-rich app to compete with market leaders, then you can consider some add-on features to deliver an exceptional user experience.
Online Pharmacy Development Solution: Add-on Features To Enhance User Experience
If you are really interested in developing an online pharmacy app that goes beyond the market standard, then it makes sense to include these advanced features in an online pharmacy development solution.
Here are the additional features that can consider adding to the app:
EHR (Electronic Health Record) Integration: The application seamlessly integrates with Electronic Health Records, allowing users to share their health profiles securely with healthcare providers like testing laboratories, emergency facilities, hospitals, and doctors.
Expert Consultation: Users have the option to seek expert advice on medications and their properties, ensuring informed decisions about their health.
In-App Document Scanner: The app features a built-in document scanner, making it convenient for users to directly upload their prescriptions, simplifying the ordering process.
Document Management: Users who frequently upload prescriptions can efficiently manage their documents within the app for easy retrieval and organization.
EPA (Electronic Prior Authorization) Integration: Health records are seamlessly linked with EPA, enabling healthcare professionals to obtain real-time prior authorizations, reducing delays in treatment.
Push Notifications: The app sends timely notifications to users, alerting them when it's time to reorder medications, ensuring they never run out.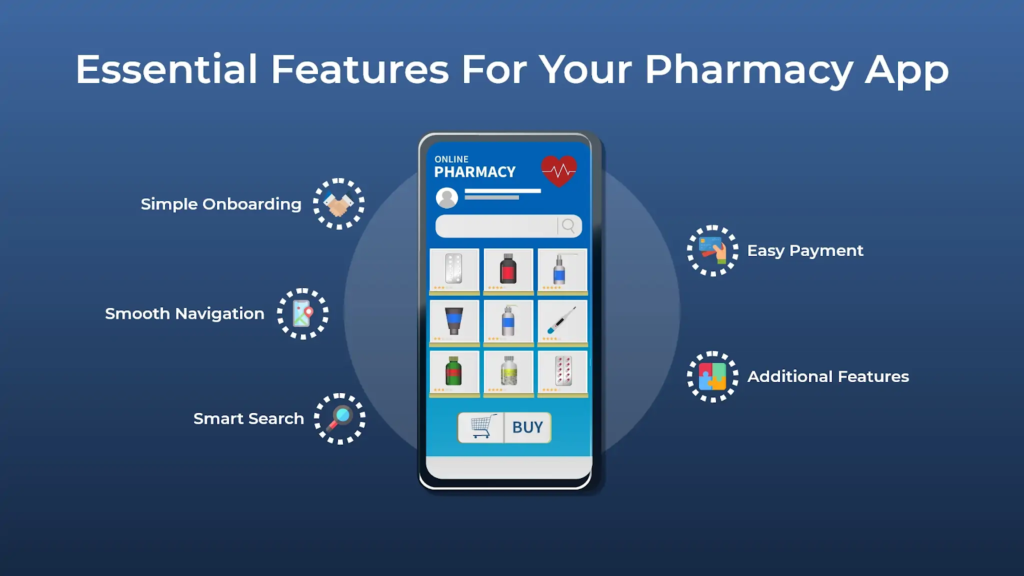 Image Source: appdukan
Lab Aggregation: Users can access information about nearby pathology labs, including price details and other relevant information, making healthcare choices more transparent and convenient.
Medicine Reminders for Refill & Intake: Users receive reminders to reorder medications and take them on schedule, enhancing medication adherence and health outcomes.
Collect from Store: In addition to home delivery, users have the option to collect their medications from a nearby store, providing flexibility and convenience.
Track Nearby Associate Store: This feature helps users locate and get in touch with nearby partner stores, ensuring they can access their medications quickly.
In-App Calling: Users can directly call pharmacists to seek assistance or place orders over the phone, enhancing accessibility and communication.
In-App Chat: Users can engage in real-time chat with pharmacists for inquiries or order placement. Delivery personnel can also chat with customers to confirm address details.
Number Masking: To safeguard user privacy, contact numbers are masked, ensuring that users' personal information is not shared with pharmacists or delivery personnel.
Shipment Tracking: Users receive a tracking ID for their orders, allowing them to monitor the progress of their deliveries and estimate arrival times.
Multi-Currency Payment Support: The app accommodates transactions in multiple currencies, catering to international users who may require medication during their stay in another country.
Multi-Lingual Support: Recognizing a diverse customer base, the app offers support in various languages to address user queries effectively.
CRM Integration: Effective customer relationship management tools are integrated to nurture strong relationships and enhance future prospects.
Order Management Integration: Pharmacists can efficiently organize and manage all orders placed through the app, ensuring a smooth workflow.
CMS for Blogging: The app allows users and pharmacists to create and share informative content, fostering community engagement and knowledge sharing.
Loyalty Program: Customers are rewarded with loyalty programs, earning redeemable points with each purchase, enhancing their sense of value and engagement.
In-App Map and Navigation: This feature aids delivery personnel in tracking customer locations for efficient deliveries, while customers can track delivery progress.
Artificial Intelligence-Enabled App: AI capabilities enable voice commands, image search, and personalized recommendations for placing orders and receiving updates. Patients can also communicate health concerns to pharmacists through AI.
ChatBot Support: An AI-driven chatbot offers automated customer support, providing quick and efficient responses to user queries.
Real-Time Analytics: Real-time analytics empower administrators to monitor live activities such as active users, sales, cart abandonment, shipments, and returns, aiding in data-driven decision-making.
Role-Based Dashboards: Role-specific dashboards provide different departments with real-time data pertinent to their responsibilities, enhancing efficiency and performance tracking.
To build an online pharmacy application for Android devices along with these advanced features you need to hire an Android app developer in the UK. The average cost to create an online pharmacy delivery app with these advanced features can range anywhere between $20,000 to $25,000+ and even go above $50,000.
How Does Online Pharmacy Development Solutions Work?
Now you know what type of app you need to develop and what features you need to include in the app, but how do these apps work?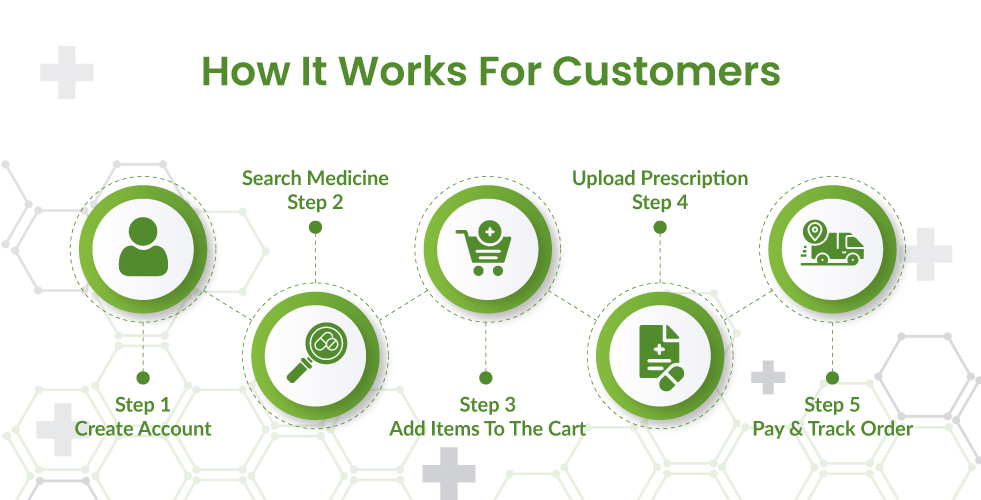 Image Source: emedstore
Let's go through this step-by-step workflow of online pharmacy applications…
Step 1: Search Medicine
Users start by accessing the online pharmacy platform or mobile app. They can then use the search feature to find specific medications or healthcare products they need.
The search can be based on the medicine's name, active ingredient, or even by specifying the medical condition it treats.
The platform provides users with a list of search results that match their query, displaying details such as the medicine's name, dosage, price, and availability.
Step 2: Add Item to Cart
After finding the desired medication or healthcare product, users can add it to their virtual shopping cart by clicking an "Add to Cart" or similar button.
Users can review and manage the items in their cart, including adjusting quantities or removing items if necessary.
The cart typically displays the total cost of the selected items, helping users keep track of their expenses.
Step 3: Upload Prescription
Some users may have prescriptions from their healthcare providers for certain medications.
In cases where a prescription is required, the platform allows users to upload a scanned or digital copy of their prescription directly within the app or website.
This step ensures that users receive prescription-only medications in a safe and legal manner.
Step 4: Pay & Track Your Order
Once users have added all the needed items to their cart and provided any required prescriptions, they can proceed to the checkout process.
During checkout, users can select their preferred payment method, which often includes options such as credit/debit cards, digital wallets, or online payment gateways.
After completing the payment, users receive an order confirmation along with a unique order tracking ID.
Users can then track the status of their order in real-time, receiving updates on order processing, packaging, and delivery.
Additionally, users may receive notifications and alerts, such as reminders to refill their prescriptions or notifications about special offers and promotions.
But the question is how to develop an online pharmacy delivery app.
How Much Does It Cost To Develop Online Pharmacy Solution?
The average price to build a pharmacy app is ranging from $20,000 to $50,000. But before you proceed further, just take a moment to understand why there is a huge gap between these estimations.
Well, the price of medicine delivery mobile app development is influenced by several key factors:
Development Platform: The choice of platform for app development, such as iOS, Android, Windows, or a hybrid solution for multiple platforms, has a significant impact on the overall cost.
Development Timeline: The cost of app development is closely tied to the project timeline. The more time required to complete the app, the higher the development cost.
Geo-Location of App Development Partner: The location of your chosen pharmacy app development provider also affects costs. Developers in the US/UK typically charge between $140 and $260 per hour, European developers charge around £80 to £120 per hour, while developers from Asia offer more affordable rates, ranging from $20 to $35 per hour.
Features and Functionalities: The complexity and number of features planned for integration into the app are significant cost determinants. Apps with extensive features tend to be more expensive to develop, whereas those with limited features incur lower development costs.
3rd Party Integration: Custom features often require the integration of various third-party platform APIs, which can increase development expenses.
Cost Estimation: If you opt for a basic set of features, creating a Minimum Viable Product (MVP) typically costs between $16,000 and $30,000.
Custom Features and Competition: To compete with established players and incorporate unique custom features into your medicine delivery app, the cost of development can escalate significantly. Depending on third-party integrations and the feature list, development costs can reach up to $50,000. Such an app, with its enhanced capabilities, has the potential to propel your business to the next level.
Still, if you feel any hitch in making a final decision, then it is worth booking a free consultation slot with our experts to book a demo.
Conclusion: How Does Hidden Brains UK Offer an On-demand Online Pharmacy Development Solution?
The rise of on-demand apps has revolutionized various industries, from food and clothing to groceries and pharmaceuticals. As consumers increasingly embrace digital convenience and opt to shop from the comfort of their homes, businesses must adapt swiftly to meet this growing demand. Among these industries, the pharmaceutical sector stands out as one that will continually thrive. Medicine delivery apps have rapidly gained popularity, securing their place in app stores and the digital marketplace.
If you're considering launching your own medicine delivery app for your pharmacy business, then it is recommended to hire mobile app developers in the UK with the right experience. At Hidden Brains UK, we have a seasoned and skilled team of mobile app developers ready to assist you every step of the way. With our expertise and experience, we can help you bring your online pharmacy solution to life, ensuring that it meets the needs of your customers and contributes to the success of your business in this dynamic digital landscape.
So if you have any query then you can drop a query or contact us for more details.
FAQs
What is the cost of developing an online pharmacy app?
Costs depend on factors like features, development team location, and complexity. A basic MVP may cost $16,000 – $30,000, while a comprehensive app with custom features can range from $50,000 to $200,000 or more.
What technology stack is commonly used for pharmacy app development?
Common technologies include mobile app development platforms like React Native or Flutter for cross-platform apps, backend frameworks like Node.js or Django, and databases like MySQL or PostgreSQL.
How can I ensure the security of user data and medical information?
Implement robust data encryption, secure authentication methods, and comply with data protection regulations like HIPAA (for the United States) or GDPR (for Europe).
What are some regulatory considerations for an online pharmacy app?
Regulations vary by region, but they typically involve licensing, prescription validation, data security, and adherence to pharmaceutical and healthcare laws.
Do Not Forget To Visit Our Robust and Secure Services:
Mobile App Development Company in The UK | iOS App Development Company In the UK | Android App Development Company in the UK | Web Application Development Agency in the UK | PHP Development Company in the UK | ASP.NET Development Company in the UK | Hire Developers in the UK | Hire Best iPhone App Developers in the UK | Hire Android App Developers | Hire Web Developer in the UK | Hire PHP Developers In The UK | Hire ASP.NET Developers in the UK