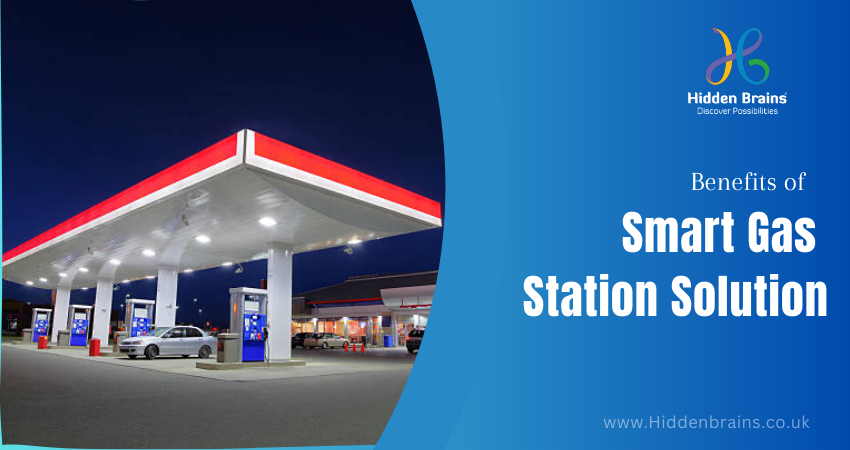 Smart gas station solutions are taking the fuel industry by storm? Wondering why they are catching the hype and altering the mechanism of the fuel industry? If yes, then this blog is for you…
The traditional fuel stations in the UK are undergoing a major transformation, with many turning into smart gas station solutions. The reason behind this shift is simple – the use of digital technologies can enhance the customer experience, improve operational efficiency, and increase profitability.
As the world becomes increasingly digitized, it is imperative for fuel retailers to embrace digital transformation to stay relevant and competitive in the market.
According to a report by McKinsey & Company, digitization has the potential to unlock significant value in the fuel retailing industry, with estimated potential cost savings of up to 25%.
Furthermore, the same report states that digital technologies can increase revenue by up to 15% by improving customer experience and increasing customer loyalty and the fuel industry is not an exception!
One of the key technologies fuel retailers are adopting hiring software development companies in the UK to create smart gat station apps. These smart solutions allow customers to locate and pay for fuel easily and quickly, without having to go to the station.
Now the question is, what exactly makes these gas stations work smartly?
There are a number of emerging technologies empowering the fuel industry. Majorly, smart gas station solutions are using IoT sensors and advanced analytics to monitor and control gas station operations. These technologies enable real-time data analysis to optimize operations and minimize downtime.
By automating tasks such as inventory management and maintenance, fuel retailers can reduce costs and improve operational efficiency.
As the CEO of EK Automation, Dusan Janjic, says, "Smart gas station solutions are no longer a luxury – they are a necessity for fuel retailers who want to stay ahead of the game."
With the potential for significant cost savings and revenue growth, fuel retailers must adopt digital technologies to provide a seamless customer experience and ensure long-term success.
By hiring a mobile app development company in the UK, you can easily kickstart your project, but before that it's worth enough to know the potential benefits of adopting smart gas station solutions in the UK.
7 Top Advantages of Adopting Smart Gas Station Solutions in the UK
Smart gas station solutions are revolutionizing the fuel retailing industry in the UK, offering a range of benefits to fuel retailers and customers. If you are still using the traditional methods in your fuel retailing industry then it's time to explore the top advantages of adopting smart gas station solutions which we have organized into three categories: Customer Experience, Operational Efficiency, and Profitability.
Customer Experience: How Smart Gas Station Solutions Help You Uplift Experience in the Age of New Mobility?
1. Enhanced Customer Convenience
With the adoption of digital technologies such as mobile apps, fuel retailers can offer customers the convenience of locating and paying for fuel right from their mobile devices.
According to a survey by GlobalWebIndex, 62% of customers in the UK say they would be more likely to use a mobile payment option if it were available.
This not only saves time for customers but also reduces the need for them of visiting the fuel station but also fulfilling the urgent need for fuel right at their doorsteps.
2. Personalized Service
By hiring an Android app development company in the UK, you can customize the solution that fits the Android operating system. The Android Smart gas station solutions enable fuel retailers to collect data on customer preferences and track histories, allowing them to offer personalized services such as targeted promotions and loyalty programs.
This can enhance customer loyalty and increase revenue. And you don't have to trust our words as a study by Accenture says that 75% of customers are more likely to buy from a retailer that recognizes them by name or recommends products based on their purchase history.
Read more to know the quick tips to hire Android app developers in the UK
Operational Efficiency: Is Smart Gas Station Solutions Help You Automation the Fueling Operations?
3. Automated Fueling
This is where smart gas station solutions are taking the momentum. The adoption of robotic fueling technology can automate the fueling process, reducing the need for human intervention and increasing efficiency.
This can also enhance safety by reducing the risk of accidents caused by human error. Also, a research report from the International Journal of Engineering Research and Development reveals that robotic fueling can reduce refueling time by up to 50%.
4. Real-time Monitoring
By using IoT sensors and advanced analytics, fuel retailers can monitor gas station operations in real-time, detecting potential issues before they become major problems.
With these smart solutions, fuel retailers can save up to 40% on maintenance costs and minimize downtime. This can improve operational efficiency by reducing downtime and minimizing maintenance costs.
5. Contactless Transactions
After the Covid-19 outbreak, 67% of consumers in the UK prefer using contactless payments and prefer maintaining social distancing. To easily cater to these changing needs and payment preferences, investing in developing Smart gas station solutions can be a smart decision.
It enables contactless transactions, reducing the need for physical contact and promoting social distancing.
Profitability: Improved Customer Experience and Process Automation Will Result in Better ROI
6. Reduced Costs
The adoption of smart gas station solutions can reduce costs through automation, predictive maintenance, and the optimization of fuel inventory. According to a report by McKinsey & Company, digitization can reduce operational costs by up to 25%.
7. Increased Revenue
By enhancing the customer experience through personalized services, targeted promotions, and loyalty programs, smart gas station solutions can increase revenue.
According to a study by Salesforce, 77% of customers are more likely to make a purchase if the retailer offers personalized services.
What Trends Are Changing The Future of the Fuel Industry?
With the various technological advancements and changing behavior of customers, the fuel industry is undergoing radical changes. So if you are all set to hire mobile app in the UK to build a smart gas station solution, then you need to know what trends are paving their way toward the fuel industry and reshaping its future. Let's jump on the main trends…
Shift Towards Cleaner Fuels
The changing behavior of customers has brought a sudden rise in the demand for cleaner fuels that emit fewer greenhouse gases and other pollutants. This trend is driven by regulatory mandates to reduce emissions, as well as consumer demand for more sustainable and environmentally friendly options.
Digitalization
In the age of digitalization, various technology is transforming the fuel industry, from production and distribution to retail and customer service.
For example, it includes the use of IoT sensors to monitor fuel levels in storage tanks, automated fuel delivery systems, and mobile apps that allow customers to order and pay for fuel from their smartphones.
Electric Vehicle Adoption
The adoption of electric vehicles is rapidly increasing in demand, which ultimately imposes a significant impact on the fuel industry. As more people switch to electric cars, there will be less demand for gasoline and diesel fuel and more demand for electricity to power the vehicles.
Alternative Business Models
New business models are emerging in the fuel industry to adapt to changing consumer preferences and technological innovations. Examples include the development of charging infrastructure networks for electric vehicles, battery swapping services, and fuel cell leasing programs.
In a nutshell, companies that are able to adapt to these changes and embrace new technologies and business models are likely to succeed in the coming years.
Conclusion
How Do Hidden Brains UK Help You Get Started With Smart Gas Station Solution?
Hidden Brains UK is a trusted technology partner that can help fuel companies get started with smart gas station solutions. We have a team of experts who specialize in developing custom software solutions that can help streamline operations, reduce costs, and enhance the customer experience.
Our smart gas station solutions in the UK leverage the latest technologies such as IoT sensors, mobile apps, and cloud computing to provide real-time visibility into operations, automate processes, and improve decision-making. We can help fuel companies implement a range of solutions, from automated fuel delivery systems and mobile payment apps to predictive maintenance and customer loyalty programs.
Partnering with Hidden Brains UK can help fuel companies stay ahead of the curve and succeed in an industry that is undergoing significant changes. So if you have any app development requirements, then you can drop a query below.
FAQs
What technologies are typically used in smart gas station solutions?
Smart gas station solutions can leverage a range of technologies, including IoT sensors, mobile apps, cloud computing, and AI and machine learning. These technologies can be used to automate fuel delivery, monitor inventory levels, manage payments, and provide real-time insights into operations.
How can smart gas station solutions help fuel companies reduce costs?
Smart gas station solutions can help fuel companies reduce costs in a number of ways, including automating fuel delivery, optimizing inventory management, and reducing manual processes. This can help fuel companies reduce labor costs, minimize fuel waste, and increase efficiency.
What are some challenges associated with developing smart gas station solutions?
Developing smart gas station solutions can be challenging due to the complexity of the fuel industry and the need to integrate with existing systems and infrastructure. Security and data privacy can also be a concern, as sensitive customer and operational data are often involved. But Hidden Brains UK can help you develop a solution that is secure and simple to access.
How can Hidden Brains UK help fuel companies develop smart gas station solutions?
Hidden Brains UK has extensive experience developing custom software solutions for fuel companies, including smart gas station solutions. Our team of experts can work with fuel companies to identify their specific needs and develop solutions that are tailored to their unique requirements. We leverage the latest technologies and best practices to ensure that our solutions are secure, scalable, and reliable.
Do Not Forget To Visit Our Robust and Secure Services:
Mobile App Development Company in The UK | iOS App Development Company In the UK | Android App Development Company in the UK | Web Application Development Agency in the UK | PHP Development Company in the UK | ASP.NET Development Company in the UK | Hire Developers in the UK | Hire Best iPhone App Developers in the UK | Hire Android App Developers | Hire Web Developer in the UK | Hire PHP Developers In The UK | Hire ASP.NET Developers in the UK