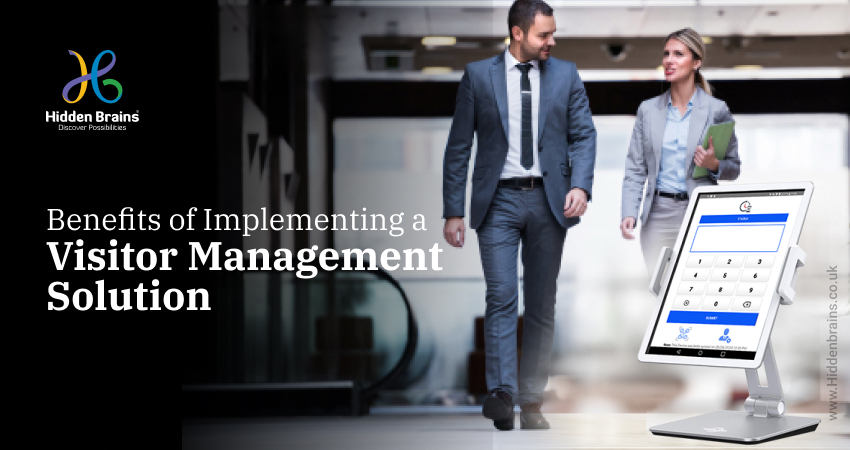 In this digital-driven world, where businesses are thriving hard to improve their work efficiencies and enhance systems securities- Businesses in the UK are constantly looking for ways to improve workplace security.
And one crucial aspect that often goes overlooked is "Managing Visitors".
There are few businesses that exist in the market that are relying on paper logbooks and manual processes to manage visitors. Well, the matter of fact is, businesses have modernized their work models and have switched to digital solutions which are much more efficient and secure.
That's where Visitor Management Systems comes into the picture and help in streamlining operations and ensure the safety and security of the business premises.
According to a study conducted by the British Security Industry Association (BSIA), over 70% of businesses in the UK have experienced at least one security breach in the last 12 months.
With the ever-evolving threats to businesses, implementing a robust visitor management system has become a necessity, rather than an option.
In this blog, we will help you go through the reasons why UK businesses need to prioritize visitor management systems and how they can benefit their operations, and how to choose the right VMS solution…
Call us today for a FREE no-obligation quote.
But let's start with the basics…
What is Visitor Management System?
A visitor management system is a modern digital solution that automates the process of managing visitors in a business or organization. It replaces traditional paper-based logbooks with a digital platform that allows for efficient and secure visitor registration, check-in, and check-out processes.
To make this system work flawlessly, usually, VMS solutions are integrated with various features such as visitor registration, ID verification, badge printing, host notification, and reporting.
No matter what size and type of industry you are in, it can be implemented across various industries and business types, including corporate offices, educational institutions, healthcare facilities, government buildings, manufacturing plants, and more. By hiring a visitor management system and solution development company in the UK, you can easily customize the VMS to fit the unique needs and requirements of each business.
On the other hand, if you are looking for modern visitor management systems then you can leverage the advantage of additional features, such as integration with access control systems, pre-registration of visitors, customization of check-in workflows, and data analytics.
These features provide businesses with enhanced capabilities for monitoring and managing visitor traffic, improving security, and complying with data protection regulations.
Overall, a visitor management system is a comprehensive and efficient solution that replaces manual visitor registration processes with digital login and logout system which ultimately ensures better control of visitors and enhances the security of premises.
How Do Visitor Management Solutions Work?
Visitor management solutions typically involve a combination of software and hardware components that work together to manage visitors entering and exiting premises. To help you understand the typical workflow of a Visitor Management System, here is a quick video giving a general overview of how a typical visitor management system works:
Mechanism of Visitor Management Solutions
Step 1: Visitor Registration:
Pre-registration through an online portal or phone
Collection of visitor information such as name, company, the reason for visit, and contact details
Creation of a visitor record in the system
Step 2: Identity Verification:
Scanning of issued ID or permit cards
Capturing of visitor's photo
Verification of visitor information against watchlists or blacklists
Step 3: Check-In and Badge Printing:
Automatic printing of a visitor badge or pass with visitor details and photo
Integration with access control systems to grant the visitor access to authorized areas
Recording of check-in time and date
Step 4: Host Notification:
Sending automatic notifications to the host via email, SMS, or other means
Display of visitor details and photos on the host's device or dashboard
Customizable notification options available for different hosts or types of visitors
Step 5: Tracking and Monitoring:
Real-time monitoring of visitor movement within the facility using video cameras, access control systems, or other sensors
Identification of unauthorized or suspicious activity
Alerts for security or compliance violations
Step 6: Check-Out:
Recording of check-out time and date
Automatic deactivation of visitor access credentials
Collection of visitor feedback or other post-visit information
Step 7: Reporting:
Generation of reports on visitor data such as number of visitors, duration of visits, and purpose of visits
Customizable reporting options based on specific needs or requirements
Integration with other systems such as HR or compliance for data analysis and auditing purposes.
Call us today for a custom visitor management system.
So this is how a typical visitor management system or solution works in a simple way. But businesses can customize it as per their unique needs depending upon the industry type. But before you proceed further, the question arises here why do UK Businesses look for these solutions? What problems do they face while managing visitors with paper-based log books…
What Challenges Faced By UK Businesses With Manual Visitor Management Process?
In the UK, businesses that rely on manual visitor management processes may face several challenges that can impact their efficiency, security, and compliance. Some of the key challenges include:
Security Risks: One such major challenge of using manual visitor management processes is the security risks. With the lack of a strong verification system in place, various activities can easily take place such as identity fraud, unauthorized access, and theft. This can lead to security breaches, property damage, and potential liability.
Inefficiency: Using a manual visitor registration process can be time-consuming and inefficient, requiring staff to spend time entering and searching for information. This can lead to delays and queues at entry points, resulting in a poor visitor experience.
Compliance: Different countries have different work cultures and compliances to follow. In the UK, businesses are subject to various regulations and compliance requirements, such as GDPR, which require them to protect personal data and maintain accurate records. With manual visitor management processes, it becomes highly challenging for businesses to meet these requirements and leaving businesses vulnerable to fines and penalties.
Lack of Visibility: It becomes difficult for businesses to track and monitor visitor movement within their workspaces. This can lead to compliance issues, security breaches, and other risks.
These are a few of the major challenges that UK businesses face while using the traditional visitor management process. If you are thinking that investing in a contactless visitor management system will be a costly deal, then you might be putting your entire business at risk with the manual process. In fact, you need to spend higher on security guards to maintain the records and keep track of visitors which is ultimately still prone to human errors.
So what are the major benefits of implementing visitor management systems(VMS) in your business…
Why Visitor Management System Is Becoming Important For Businesses In The UK?
Visitor management systems (VMS) are becoming increasingly important for businesses in the UK due to the many benefits they offer, including better security, increased efficiency, and better visitor experiences.
If you are still doubting whether it is worth looking for Visitor Management Solution and System development company in the UK, then you need to check out these benefits of implementing a digital visitor management system in the business:
Unlock the Potential Benefits of Implementing a Visitor Management System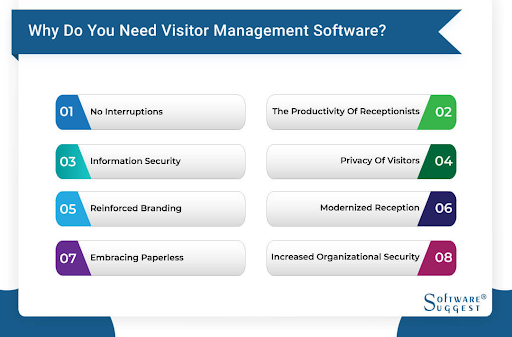 Uplift the Security of Your Premises With Custom Visitor Approval and Pre-Approvals!
According to a survey conducted by IFSEC Global, 81% of respondents believed that visitor management systems have a positive impact on security.
VMS solutions help businesses improve security by verifying the identities of visitors and preventing unauthorized access. That's not all, businesses can restrict and manage the entries to the various areas of the workplaces and be able to maintain discipline.
Enhance Efficiency By Automating the Visitor Management System!
According to a study by Proxyclick, 60% of businesses that implemented a VMS solution reported improved efficiency.
Usually, digital Visitor management solutions come with various features such as the pre-registration process, check-in, check-out, assigning badges, access for a limited time, and more. These features will help businesses improve efficiency by having better control over visitor management.
Call us today for a FREE no-obligation quote.
Ensuring Better Visitor Experience By Streamlining the Check-in/out Process!
According to a survey conducted by The Economist, 85% of visitors reported that they had a better experience when visiting a facility that used a VMS solution.
VMS solutions can help businesses provide a better visitor experience by automating the registration and check-in process. If a visitor is expected to visit at a particular time, they can be pre-registered through an app ahead.
On the other hand, the moment visitors put in a request for visits, businesses will get a registration confirmation notification containing all details including the time, purpose, and areas to visit.
This substantially improves your relationship with the visitors and makes a great first impression.
Provided Analytics, Generating Real-Time Insights into the Visitors!
According to the Proxyclick State of Visitor Management Report 2021, 47% of businesses used VMS solutions to collect data on visitor activity.
VMS solutions can provide businesses with data and insights into visitor activity, helping them make better decisions about resource allocation and visitor management.
For example, businesses can use VMS solutions to identify peak visitor times and plan staffing accordingly.
Key Features To Consider Implementing in Visitor Management System
When it comes to developing a Visitor Management Solution for your business in the UK, it is important that it must be integrated with the right set of features. The success of any app will be depending on the functionalities it offers to the visitors to make their visit experience satisfying and allow businesses to keep track of every movement over their premises.
So here are the major features that you need to consider looking for visitor management solutions and systems.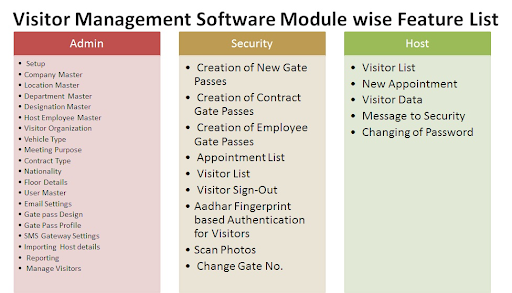 Apart, if you are looking for basic VMS solutions or planning to build an MVP solution, then here are the few important features of Visitor Management Solution that you need to pay attention to.
Top 10 Features of Visitor Management Solution 
Pre-registration of Visitors: Allow visitors to pre-register online through the mobile app, saving time during check-in and providing an added layer of security by requiring advanced approval before allowing access to the business areas.
Visitor Check-In: This feature will allow visitors to check in themselves using a mobile device, thereby eliminating the need for a receptionist to manually process visitor information. Also, this will help businesses to stay updated about day-to-day visitors.
ID Scanning: The system should have the capability to scan and capture visitor information from issued identification documents such as driver's licenses or passports, ensuring accurate and efficient data entry and eliminating the risk of fraud.
Customized Visitor Badges: The VMS should print customized visitor badges that clearly display the visitor's name, photo, and other relevant details, making it easy to identify visitors and their purpose in the business premises.
Notification Alerts: The system should notify the business owners when their visitor arrives, allowing them to greet the visitor promptly.
Real-Time Visitor Tracking: The VMS should track visitors' movements throughout the area and provide real-time data on their whereabouts in case of an emergency. Also, in the advanced app version, you can consider keeping a historical track of visits.
Reporting: It could be an important feature that help generate detailed reports on visitor traffic, including information such as check-in and check-out times, visitor types, and duration of visits, to help organizations optimize their facility operations.
Integration: Prefer building a VMS system that must be compatible with other security systems in the facility, such as access control and video surveillance, to provide a comprehensive security solution.
Data Security: The system should have robust data security features to ensure the protection of sensitive visitor information, including secure data storage, encryption, and access controls.
Customization: The VMS should be customizable to meet the specific needs of the organization, including branding, language, and visitor types.
Call us today for the best vistor management solutions.
So these are the top 10 features of VMS solutions that ensure better security, seamless monitoring, and automated check-in and check-out process. But as a business owner, your prime concern is how much does it cost to build a VMS solution? Does it fit your budget or require a huge investment?
Let's jump on next section…
How Much Does It Cost To Develop a Visitor Management System?
Many resources may provide you with a rough estimation of developing a Contactless Visitor Management Solution ranging between $10,000 to $20,000 or more.
But the truth is, there is no standard cost of the Visitor management system and solution development.
Every business is different and has various different requirements. So there is no one-size fit-to-all solution and so the cost is different for every solution. But calculating the real cost is not so challenging when you know the factors affecting the app development cost.
The actual cost can vary based on specific requirements and on several factors, such as the complexity of the solution, the features required, the development platform, the technology stack used, and the development team's hourly rate.
Before you make any final decision to keep doing the guesswork, it is recommended to consult with a software development company in the UK or book a free consultation slot with us to get a more accurate cost estimate based on your specific needs and requirements.
Our experts at Hidden Brains UK will provide you with a detailed breakdown of the costs involved in developing the solution and help you make an informed decision.
Conclusion: How Do Hidden Brains UK Help You Build Your Contactless Visitor Management System?
At Hidden Brains UK, we understand that the safety and security of your visitors and employees are a top priority. That's why we offer a state-of-the-art Contactless Visitor Management System that helps you manage your visitors with ease, efficiency, and security.
Our system is designed to provide a seamless experience for your visitors while ensuring that your premises remain secure. From pre-registration to check-in and check-out, our system streamlines the entire process, allowing you to focus on your core business activities.
So no matter how complex your app development requirements are, our experts are here to assist you with an optimum quality solution. For more details, you can drop a query below or get in touch with our experts for real estimations.
FAQs
What is a visitor management system, and why is it important for UK businesses?
A visitor management system is a software solution that enables businesses to manage and monitor the flow of visitors to their premises. It allows them to keep track of who is on their premises, why they are there, and how long they stay. A visitor management system is essential for UK businesses as it ensures that they are compliant with health and safety regulations, enhances security, and improves the efficiency of their visitor management process.
How does a visitor management system help UK businesses maintain a contactless environment?
With a visitor management system, UK businesses can offer a contactless check-in process, which reduces the risk of virus transmission. Visitors can pre-register online, receive a QR code or electronic pass, and check-in using their mobile device. This way, they can avoid touching shared surfaces, such as a reception desk, and maintain a contactless environment.
Can a visitor management system improve the overall visitor experience?
Yes, a visitor management system can enhance the overall visitor experience. By enabling visitors to pre-register and check-in faster, it reduces the time they spend waiting in line, making their visit more convenient. Additionally, it ensures that visitors are greeted promptly and directed to their destination, making their visit more enjoyable.
How does a visitor management system improve security for UK businesses?
A visitor management system allows UK businesses to keep track of who is on their premises, which enhances security. It enables businesses to screen visitors and ensure that they are authorized to enter the premises. Additionally, it provides real-time notifications of visitor arrivals and departures, making it easier to monitor who is on the premises.
How can UK businesses choose the right visitor management system for their needs?
UK businesses should consider several factors when choosing a visitor management system, such as ease of use, security features, scalability, and cost. They should also look for a solution that can be customized to their specific needs and offers ongoing support and maintenance. Working with an experienced provider like Hidden Brains UK can help ensure that UK businesses choose the right visitor management system that meets their unique requirements.
Do Not Forget To Visit Our Robust and Secure Services:
Mobile App Development Company in The UK
|
iOS App Development Company In the UK
|
Android App Development Company in the UK
|
Web Application Development Agency in the UK
|
PHP Development Company in the UK
|
ASP.NET Development Company in the UK
|
Hire Developers in the UK
|
Hire Best iPhone App Developers in the UK
|
Hire Android App Developers
|
Hire Web Developer in the UK
|
Hire PHP Developers In The UK
|
Hire ASP.NET Developers in the UK