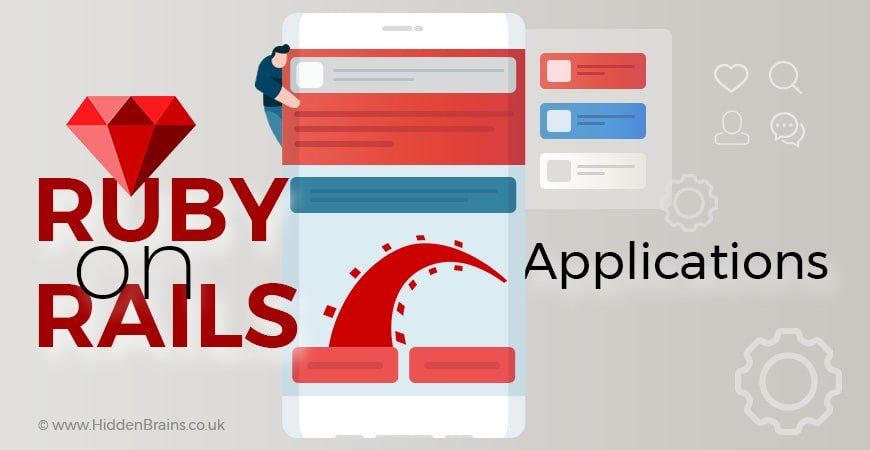 Ruby On Rails Future
Formed a decade ago, ROR is very responsive, robust and fast, which allows the developers to work with efficiency and increase the productivity. Ruby on Rails development now provides crucial support for several popular applications on the web.
Over the years, the number of tools in use by the average Rails developer has grown steadily. Even though RoR tools serves a useful purpose, and can make your life as a developer easier. Rumor mill has been abuzz about the decline of Ruby in the developer world for years and articles predicting the "death" of Ruby continue to appear online with amazing regularity.
Here are the reasons the Ruby on Rails will continue to rule the future:
Ruby is among Top 10 programming languages
However, contrary to the rumors floating the language and its main framework (Ruby on Rails) are safe and continue to evolve.  Ruby still ranks among the top programming languages preferred by developers. Several prominent companies continue to use Ruby on Rails. This stands testament to the security, scalability and robustness of the Ruby on Rails.    
Strong and active developer community
Ruby's popular Rails framework has a strong ecosystem of active and strong developer community of 3,500 contributors on GitHub. Rails community is active and new contributions are made regularly from GitHub. A dynamic and strong community plays a key role in helping create functional and secure applications better and faster. Developers can share their experience, troubleshoot bugs, and help each other to evolve and grow. An active community also means detailed documentation and support, so Ruby developers can quickly find detailed explanations and guides.
Ruby improves and gets faster
Ruby is constantly evolving and updating at a rapid pace. Lean, fluid and faster, each and every new version of Ruby signifies complete changes and improvements aimed at high performance. Being a dynamic programming language, Ruby is slower than its statically compiled counterparts, such as C or Java. Several different industries right from real estate software solutions to healthcare are experimenting with Ruby on Rails applications with success.
Ruby is fast enough to power the vast majority of web applications and if an app gets lucky and grows viral, it can be easily scaled to match the growing load. Modern applications  are complex and the whole architecture of the server system counts and not just the back end programming language and its framework.
Ruby is perfect for startups
Considering several programming language options, Ruby has been a great choice for startups. With its simple and intuitive code, Ruby allows providing software development services and saves time on average. Developers opting for Ruby on Rails build applications 30-40% quicker compared to teams using other technologies.
Shorter development and faster time to market results into savings for startups with budget constraints. Ruby on Rails is Open Source framework where developers pay nothing to implement rich functionality in Rails apps. Startups can invest in actual implementation of several features and making an application more functional and engaging.
Ruby remains a popular programming language that helps create successful applications for startups.
Success Stories of Ruby on Rails Development
GitHub:  One of the most important resources for developers, GitHub is used to host IT projects for collaboration. It's free for open-source projects a popular forum for software engineers to exchange ideas.
Basecamp: Ruby on Rails is a free web application framework created by David Heinemeier Hansson, one of the 37signals programmers. Basecamp is first product of 37signals. It is a web-based project management tool launched which was launched in 2004. Basecamp aims to simplify project management, providing an easy-to-use online environment where collaborators can chat, share files, create checklists, create workflows, and track project progress.
Airbnb: Airbnb one of the most popular websites for travelers seeking accommodations provides listing of more than 65,000 locations in 191 countries and matches property owners with tourists. Ruby on Rails makes Airbnb function well, since the site has been continually updated with new listings and more sophisticated applications for search, transactions, and fraud detection. Ruby on Rails gives Airbnb developers agility and scalability to handle growing user base.
Use Cases for Ruby on Rails Development
Building E-Commerce Sites
The Ruby on Rails has strong and powerful database that lets you add several robust features such as adding large number of product pictures and write the description about each of them. In addition to these features, you can also go for payment integration and chat feature implementation option as well.
Social Media Platforms
The Ruby on Rails is also optimum choice to build a social media platform. It provides the option of several plugins that can be integrated into social media and networking sites. The support of feature rich library in RoR accelerates the speed of the development process.
Content Management System
RoR comes across as a perfect pickup for the Content Management System platforms as it helps to provide easy scalability and simplify the navigation of the web application or website. It offers flexibility in design and has a large community base to support it.
Conclusion 
Ruby on Rails has now become one of the hottest technical trends contrary to the belief that it is on decline. Its simplicity, web process; ease of use, level of customization and the cost have made it a perfect choice to choose by many companies. Ruby can create a fully functional web application. 
Ruby on Rails continues to gain prominence across different sectors and companies are transcending their operations online, including e-commerce, education, retail, health, and manufacturing. Providing a large scope for innovation, ROR empowered mobile apps also become a large sector in the nearing future.