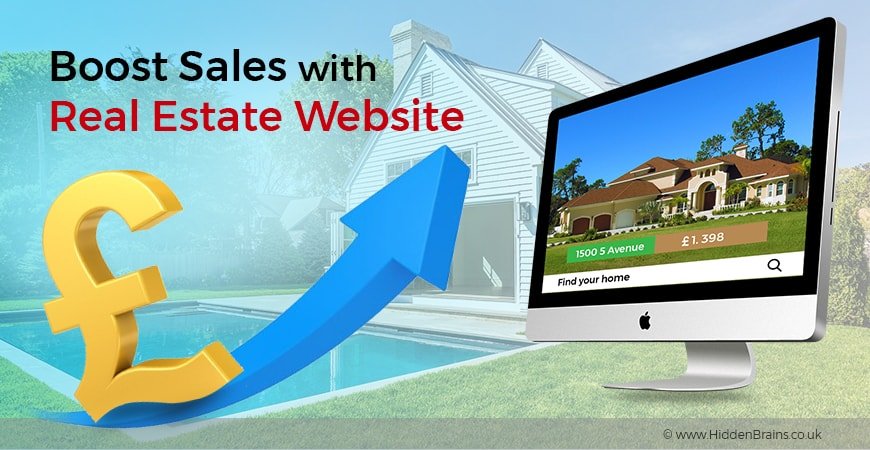 Real Estate Website Development can prove to be a differentiating factor
While establishing a real estate business, what are a few important things that come to your mind for effective marketing? Printing business cards, finding financial investors or purchasing a database for bulk mailing? Most of the real estate business owners fail to realize the impact of digitization and associated marketing strategy. Real estate website development has immense potential to generate leads and drive in more sales through online traffic.
This industry is vast and competitive with a large number of companies offering spectacular properties for sales to customers. Real Estate Website Development can prove to be a differentiating factor in marketing strategy apart from regular hoardings and printed advertisements.
Real Estate Industry Statistics
Real estate advertising and marketing strategy revolves around the question of 'where would buyers search for a property?' If numbers are something to be considered, take a look at following statistics that imply the significance of real estate web solutions:
44% of people search on the internet while browsing options for purchasing property
33% of people directly contact real estate agents to know about available options
9% of prospective buyers move ahead with an open house sign
6% of buyers consult their friends, neighbours or relatives while purchasing property
2% directly buy land or property from a known seller
1% of buyers buy properties after referring printed advertisements 
                                                      Data Source: National Association of Realtors
If this is not enough or convincing, you should know that searches related to 'real estate' on Google grew by 253% over the past four years. Moreover, 89% of property buyers search for a real estate agent on the internet. As per the recent study from the National Association of Realtors, 94% of millennials conduct an online search during the home buying process and 35% of home buyers are millennials. (Data source: NAR 2016 Home Buying Trends: Millennials)
Augmented Reality Real Estate Apps: Interactive Property Buying Experience
Accelerate Sales with Real Estate Website Development
It can be concluded from the aforementioned statistics that going digital is no more an option for real estate agencies, instead, it is necessary for survival in the market. Let's know how to make the most of real estate website development and get good results in a short time:
1. Content that Complements with Website Design
Succinct, crisp and interesting content on the website results in higher engagement ratio. Design and content of the real estate website should complement each other. Paragraph after paragraph of text could give you SEO results, but with a drawback of high bounce rate as it won't appeal visitors.
Consider the following pointers while writing content for real estate website or web application:
Relevant content with good presentation, structuring and layout using bullet pointers and short paragraphs that resonates with the interest of visitors is the key to generate leads from website.
Content on the website should reflect the journey that users take while browsing one page to another.
Visually appealing content has higher engagement ratio than mere text-based one.
Support your text with high-quality HDR images and videos to give a complete understanding to the user.
Video content helps in grabbing the attention of users instantly and give a glimpse of your offerings.
Real estate web solutions and websites can upload videos of 'virtual tours of home' that can be incredibly valuable to customers during their research phase. 
2. Capturing Email Addresses of Users
Real estate website is an important medium to capture information of users, especially their email address. When users enter their email addresses, real estate companies can store them for marketing purpose. Websites can include fields that prompt visitors to enter their email address. It is observed that brands that offer incentives to users for signing up have higher subscription rates than those that do not offer any deals.
Email marketing is an effective promotion technique to advertise among target users about the availability of new properties. Be it spreading a word about special offers, important real estate related rules or regulatory changes or yet another promotional email, this advertising strategy helps your real estate brand to stay on the top of mind of investors.
3. Serving Remotely Located Customers
It is possible that a customer is based at a remote location and wants to actively search for a property that is in another state. Real estate website allows user to take the decision without the hassle of visiting the property to finalize the deal.
Responsive websites can include an option to view the property through AR Technology. With this, users can get the complete experience of property, lighting conditions, surrounding without actually going at the location. Real estate websites with support for mobile version and different browsers can bring in sales through the use of such emerging technologies.
On a Concluding Note…
Real estate websites have proven results for boosting overall sales. Print ads, hoardings and other offline promotions come into effect when combined with online promotions of website. When the world is going digital, you should too! Match the pace of rapidly changing real estate landscape to survive in this cut-throat competitive era.