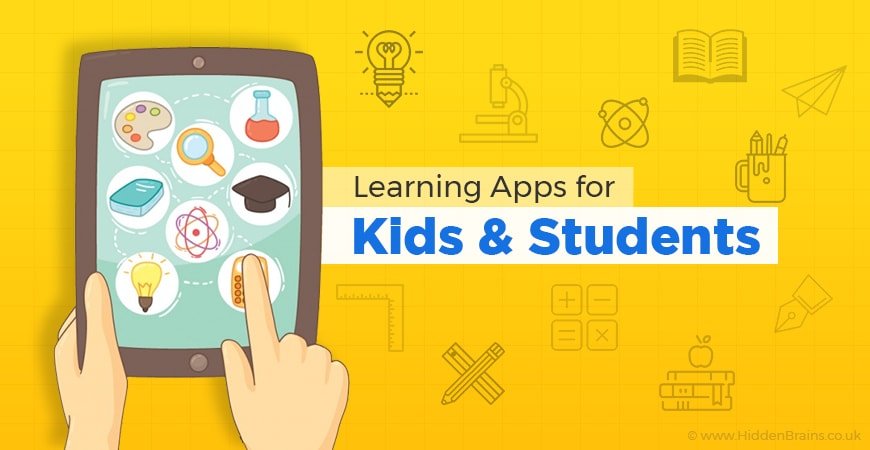 How many kids you know that love playing on mobile phones and tablets? Many, isn't it? This shouldn't come as a surprise as these kids are born in digital generation. Looking back to your childhood days, what did you enjoy the most? Playing games such as Ludo, Snakes and Ladder and cards was the favorite pastime of kids till 1990s.
Though these games have retained its popularity, the form in which they are played is completely changed. All dice board games are now available in form of mobile apps to match up with changing preferences of players.
This inclination towards mobile culture is not unnoticed from educational institutes that are now resorting to this platform to encourage interactive learning.
What's the Need for Mobile Learning Apps for Kids?
Schools are already empowered with digital classrooms where they use presentations and videos to impart education. But what about self-learning outside the physical boundaries of school?
Children are usually found giving excuses for not completing their homework. Lack of interest is the main reason for incomplete homework. How to develop interest among children such that they enjoy doing their homework?
Learning should be imparted to children in an interactive form. One of the most preferred means of learning is through mobile apps. Why not impart knowledge to students and kids in their favorite way?
Leveraging the Potential of Mobile Platform for Education Industry
Utilizing trending platforms and technology to the benefit of students has given positive outcomes so far:
Interactive and Immersive Learning Experience
Studying from textbooks is what we have been following since decades until mobile learning came into existence. Though textbook explains the theory using descriptive content and reference image, it is a static medium.
Mobile apps account for dynamic learning experience as every topic is backed with proper backlinks from which students can get elaborate information. In addition to that, through mobile learning, kids and students can refer videos of classroom training.
Videos, images and reference links altogether provide an immersive and interactive learning experience, which enable students to grasp knowledge much faster.
Studies Combined with Fun
Did you know that learning experience can be combined with fun? Several difficult topics that are explained using theory and videos can further be presented as games to students. Learning through games is done by setting rules of games as facts of a theory. This way, students explore the topic to its depth and deeply imbibe the rules in their minds.
Categories of Learning Apps for Kids and Students
Students can improve on their learning skills through following types of apps:
Basic Counting for Kids and Advanced Mathematics for Students
English Vocabulary
Spelling Tests
Physics, Chemistry & Biology Apps
These are most popular categories in mobile apps that make learning quite easy and simple.
How helpful are Mobile Apps in Education Industry?
Following are benefits of using mobile apps for education:
24/7 Availability
With educational apps installed in mobile phone, students can access their study materials and learn without any restrictions of time and place. This enables students to study at their own convenience, thereby motivating the concept of relaxed learning over time-bound learning.
As mobile phones are quite handy, they can be carried everywhere. Textbooks, on the other hand, are difficult to carry and handle outside school and home. If learning through mobile app, student can utilize travelling time and study as per his/her mood and interest.
Integrated Learning Platform
Several educational institutions have introduced their mobile app to roll out important updates among students. This mobile app acts as an integrated platform that seamlessly connects teachers and students.
Students can form communities and join groups based on their common interest. Further, they can help each other to overcome their weak areas mutually. Student can also contact teachers in case of queries to get expert guidance on the topic.
Learning through mobile apps is the best way to stay connected with teachers outside the premises of school.
Learning through Means of Entertainment
Kids and teenagers have mostly used mobile phone for playing games, watching movies and listening to music. In short, until its utility for learning was explored, it was merely used as a means of entertainment.
What can be better than transforming such means of entertainment into interactive learning platform? Learning through mobile, if used wisely, can work wonders. Whenever a student has doubt regarding some terminology used while reading through mobile app, he can immediately browse the internet to get detailed information on the same. One device provides a complete learning experience with media of text, images, audio (podcast) and videos.
Mobile Apps for Children with Learning Disabilities
Children suffering from learning disabilities often find it difficult to grasp knowledge during classroom training, unlike their fellow classmates. These students belong to special category and need to study in different way to cope up their learning disability.
There are apps in Android App Store as well as iTunes, namely Voice4U and Learning Ally, which help children suffering from learning disabilities.
To Conclude…
Educational mobile apps have transformed the way of imparting knowledge to students. As per education industry experts, this innovative way of learning has increased interest of students and resulted in greater engagement. Let's utilize mobile learning for brighter tomorrow!
Hidden Brains is the most reputed mobile app development company, specializing in delivering educational, e-learning and knowledge based apps. Get in touch today to develop an educational app and discuss possibilities.